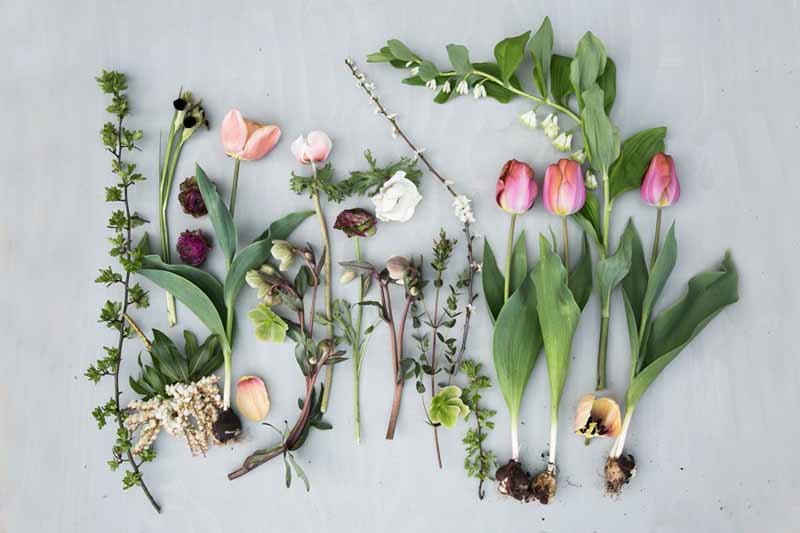 It was this time last year whilst pruning the roses that I got a call from Clare Foster, garden editor for House and Garden. She asked if I was interested in working with her on a 6 month series about growing flowers for cutting – each issue would be filled with information about what to grow for a continual supply of flowers for the house from April through to September, which are the best varieties for cutting, when and how to complete tasks and ideas for how to arrange what you have produced .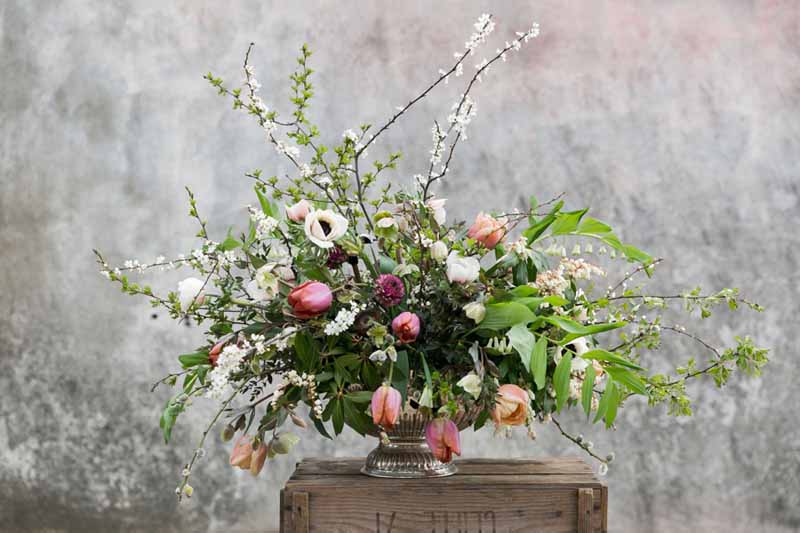 The garden photographer Eva Nemeth had been commissioned to work on the images and over the next few months she paid regular visits to the farm to capture the rapid succession of horticultural tasks, flowers, floral designs and created some gorgeous flat lays to illustrate my favourite seasonal pickings. Eva took so many beautiful images that I thought it was a shame not to show more of them in a blog to run alongside each monthly installment. It also seemed like a good opportunity to talk a bit more about what we get up to throughout the season.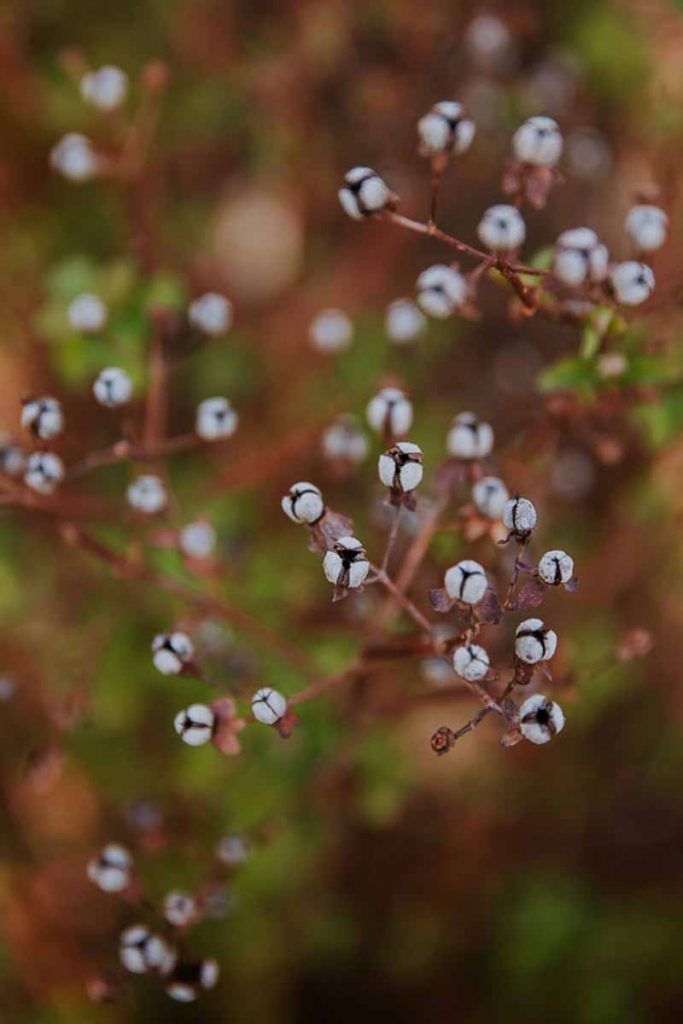 April is often considered the start of the cut flower growing season but I find March a more realistic month to get started. There is plenty of cutting back and pruning to do if you are growing perennials, shrubs and roses for cutting. These will all need a good mulch afterwards with well rotted manure or compost. It is important to get this job done earlier before buds start to break into leaf and new growth starts to sprout from the ground.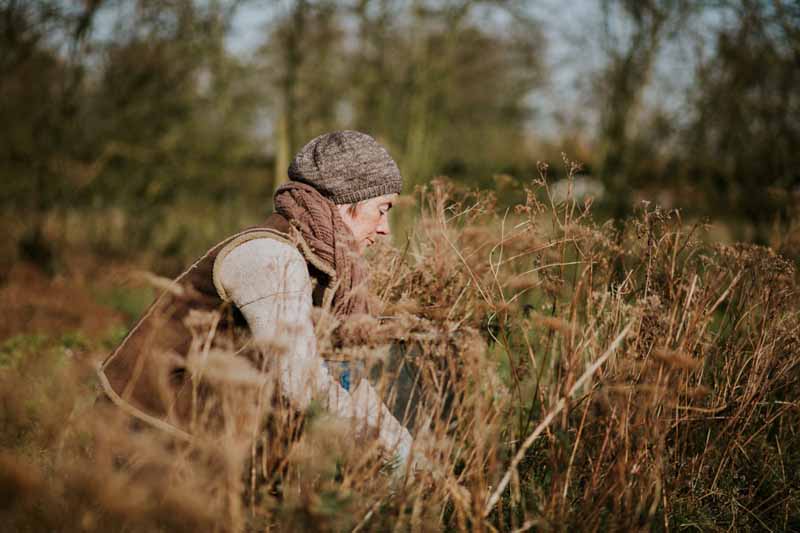 I tend to do most of my perennial and shrub planting in March. There is plenty of moisture around for the roots to get established before the warmer months.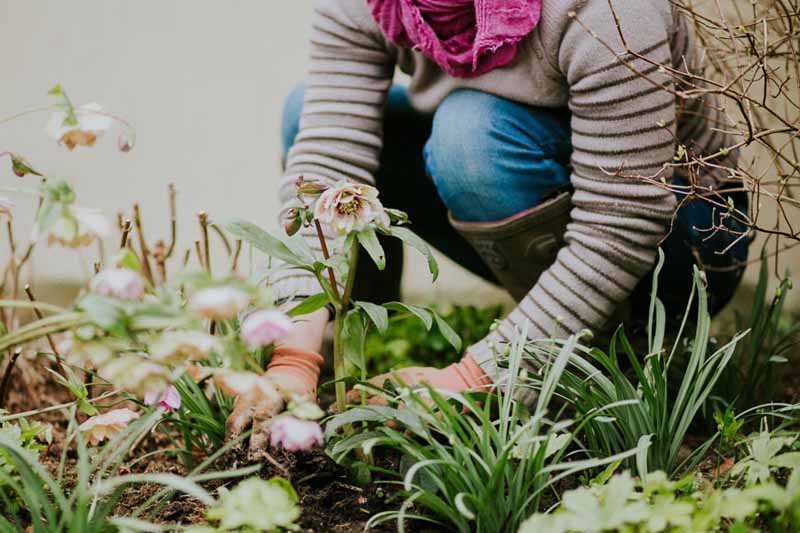 I always earmark my older more congested perennials for lifting and dividing at this time, this year the focus is on my large collection of phlox, I am saving this job for the attendees on the Propagation Masterclass who will be taking some healthy clumps home with them.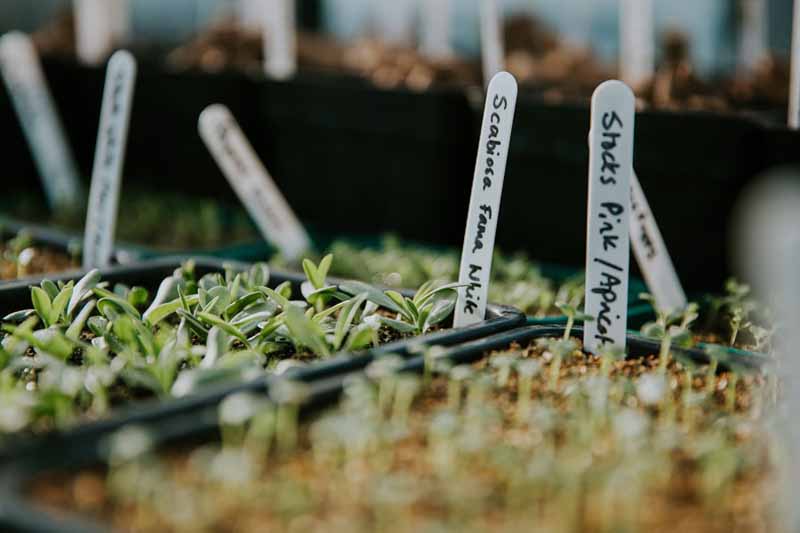 March is also when things start to get busy in the greenhouse. If you are lucky enough to have one it is a good time to sow a whole host of annuals (both hardy and half hardy) plus perennials which you would like to see flowering in their first year. I grow many of my favourite perennials from seed including scabious, Eryngium, delphiniums and Achillea, it saves a lot of money and is many germinate varieties germinate very easily. Sowing will continue into April with some of the hardy annuals that dislike root disturbance being sown directly outside.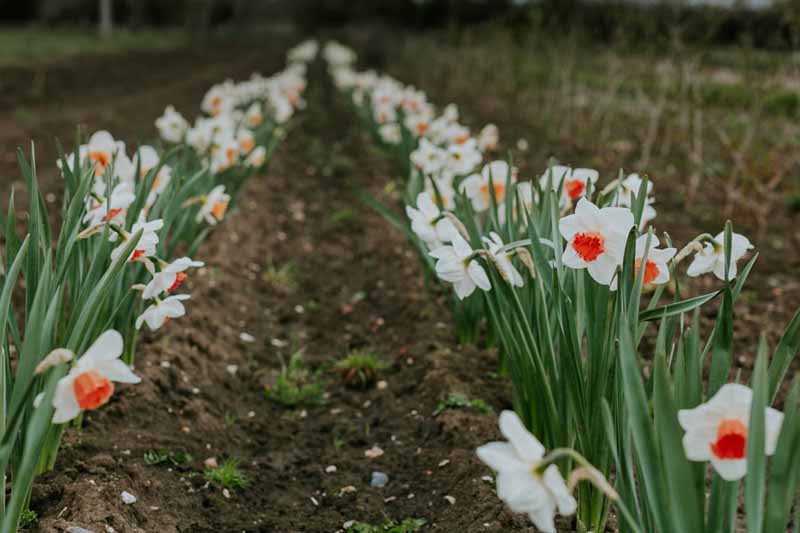 Just as things start to get busy with growing tasks it is time to start picking all the flowering bulbs that were planted between September and November.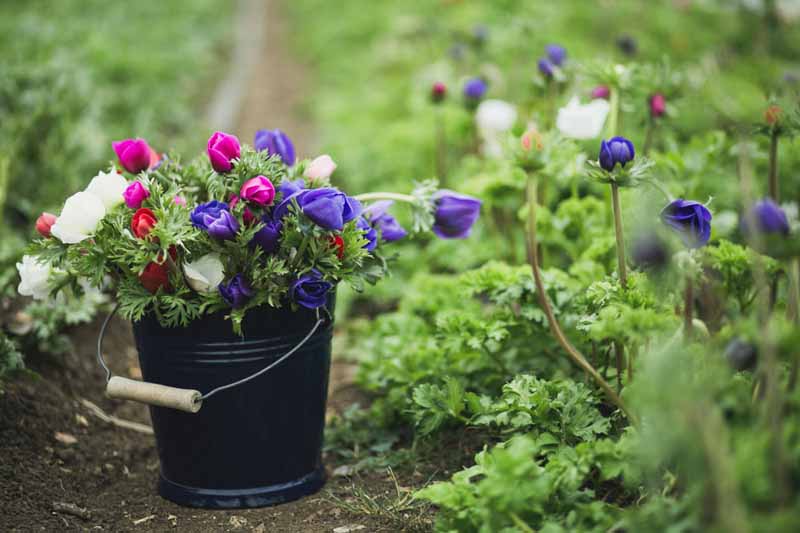 The Anemones are in flower first and once they start they come thick and fast, producing stem after stem from each corm. To find out more about how to grow them have a look at my post here.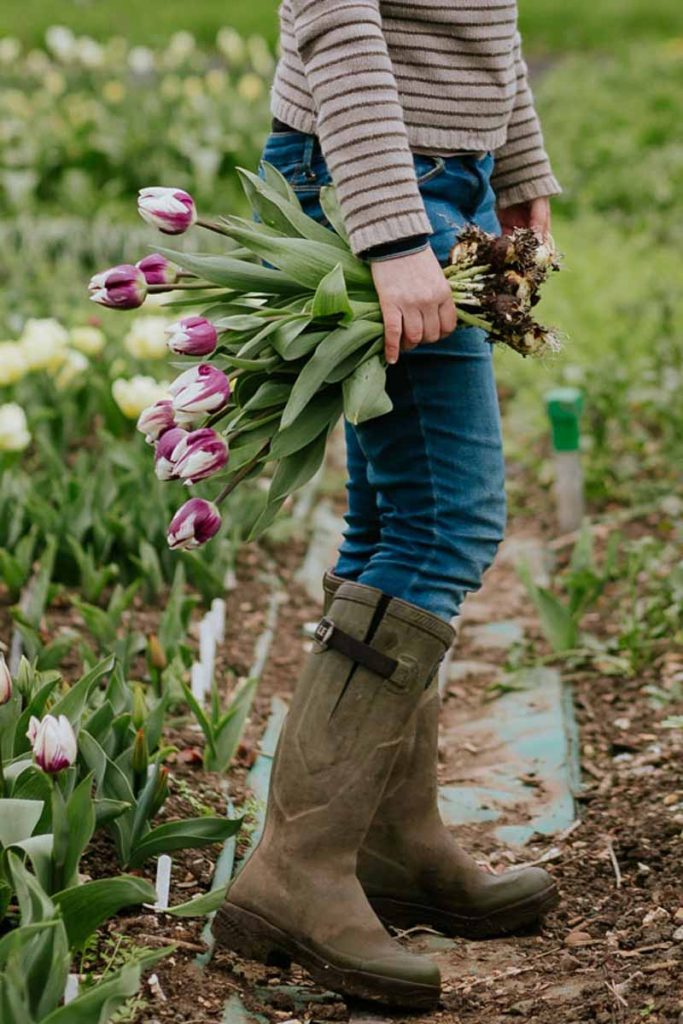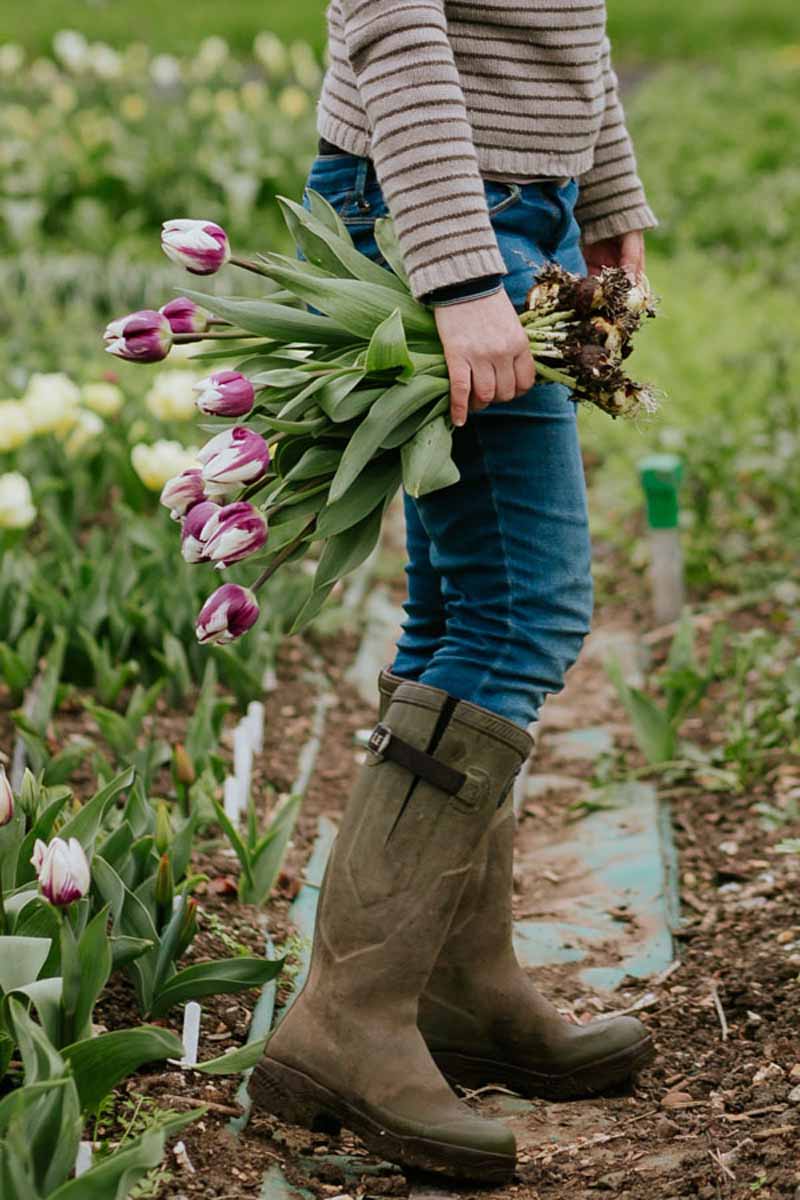 The tulips follow close behind, I pull them  and lift bulbs and all, clearing the bed as I go for the next crop – more about growing tulips in my cultivated palette series here.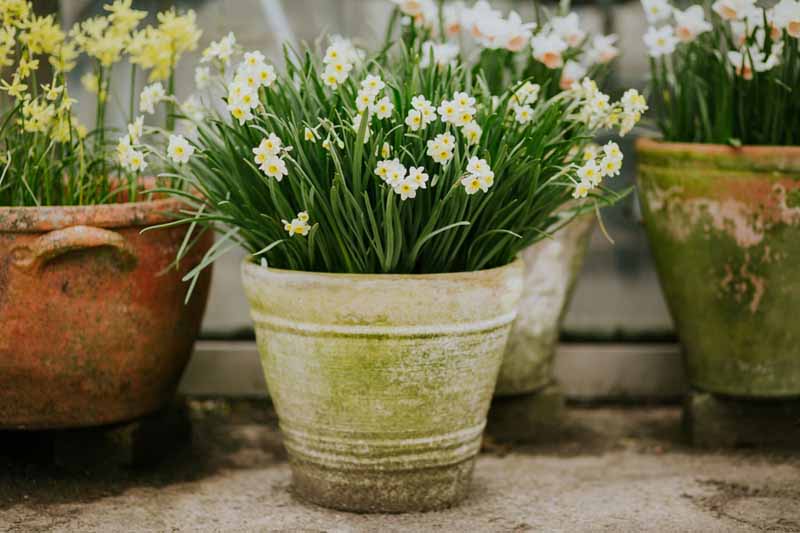 Narcissus are flowering in our field and in my pots, I love showing off the more delicate varieties this way and I find they last longer in a pot than tulips.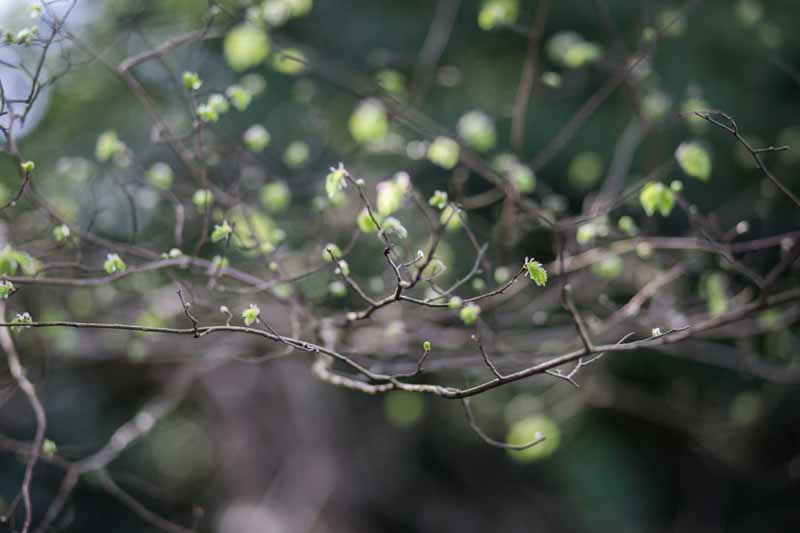 To accompany all these spring beauties April is an ideal time to go foraging, I cut from our surrounding native hedge and orchard, carefully selecting the branches that will create the shape I want in my arrangements. The emerging leaves of hazel and hawthorn accompanied by blossoming branches are my favourites.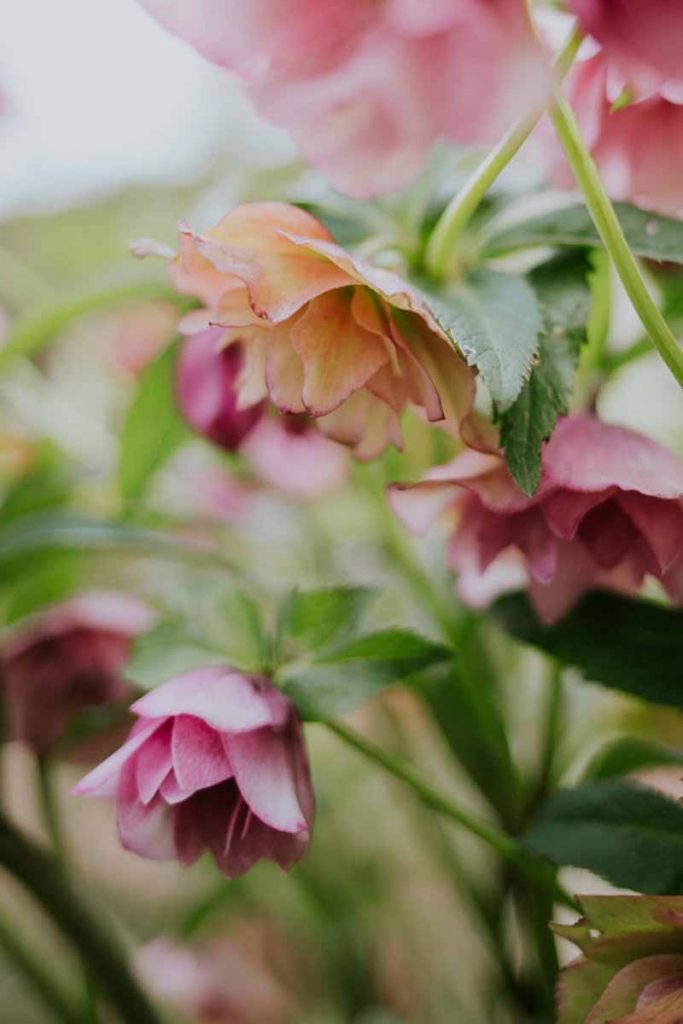 No April arrangement would be complete without a hellebore or two, by now they are setting seed and this ripening gives them a much longer vase life.