I have done some requests for wedding photos from some of our brides this year as we often don't get to see full story of their day amid all the bridal hustle and bustle of the summer season. Afterwards, it's great to observe how many plans were fulfilled and dreams achieved, especially as many of our brides do some arranging themselves. So, I just thought it would be fun to see some of the real brides with their bouquets from this year.
I did become rather attached to hurriedly pinning on a linen tablecloth from Habitat to photograph my bouquets before they rushed off to a busy dressing room. The bouquet looks better when held, retaining its shape and the oatmeal tablecloth set off the flower colours very well. The resulting silhouette is not terribly flattering though, maybe it is about time I bought a real dress or perhaps it's high time I made one.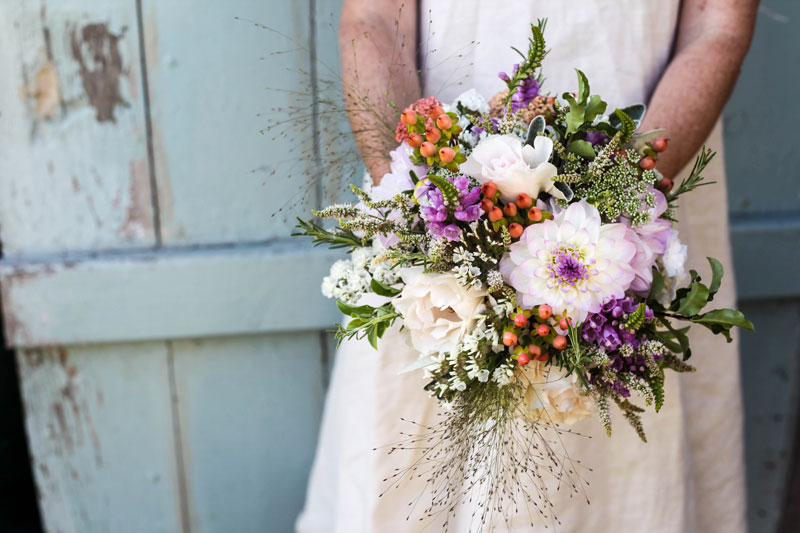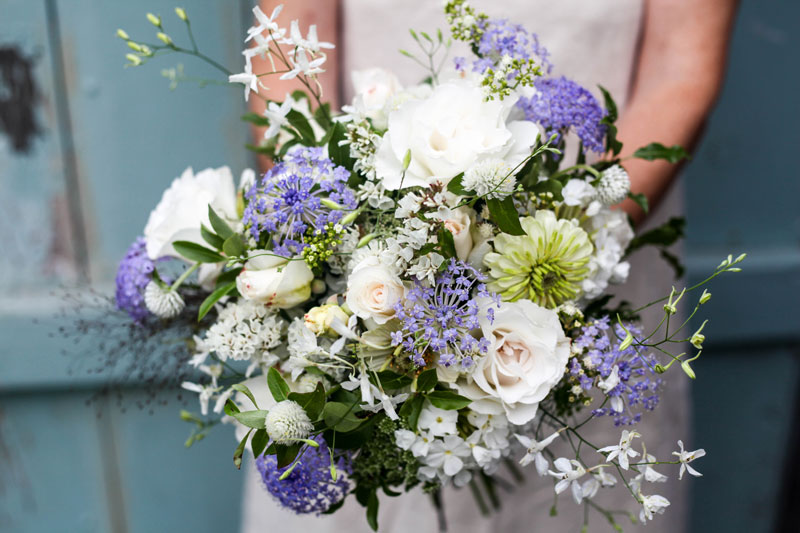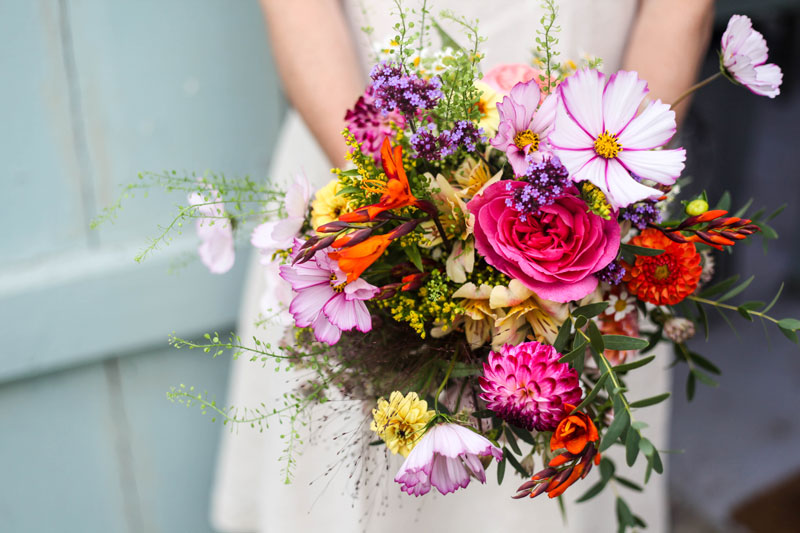 Anyway, back in the real world, here are a few of the brides from this year with their bouquets.
Kate decided upon whites and greens for her wedding in May, her bouquet included my favourite ivory Peony 'Duchess de Nemours' and a lacy umbellifer called Orlaya which were also used in the hair and table centre flowers which the family arranged into our Weck jar selection.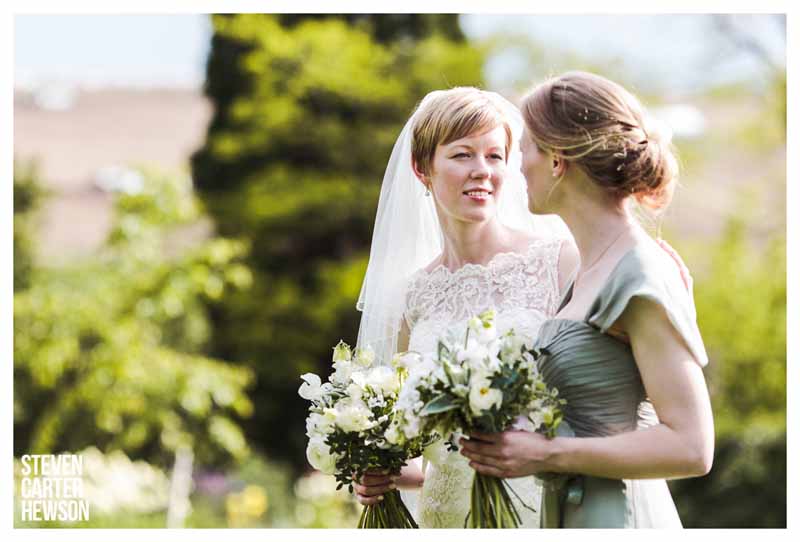 Meg chose corals and yellows for her wedding which was perfectly timed for Peony 'Coral Dawn' and Icelandic poppies combined with golden Philadelphus and honeysuckle.
Kate Townshend's bouquet had a base of Spiraea and Jasmine with sumptuous Peony 'Kansas' and Sweet Williams for the deep pink element and scent from a Japanese Sweet Pea variety called 'Oyama bicolour'. To complement the lace on her dress I also included Astrantia and Orlaya.
I like to include as much variety, scent and texture as possible in my bouquets – it is hard not to with so much in the garden to choose from. Consuelo's brief was soft corals, pinks and creams with silvers and greens. I included a few different varieties of roses and dahlias with some peach Hypericum, dusty miller and pineapple mint. Panicum 'Frosted Explosion' and Jasmine combined to give the bouquet a wild finish.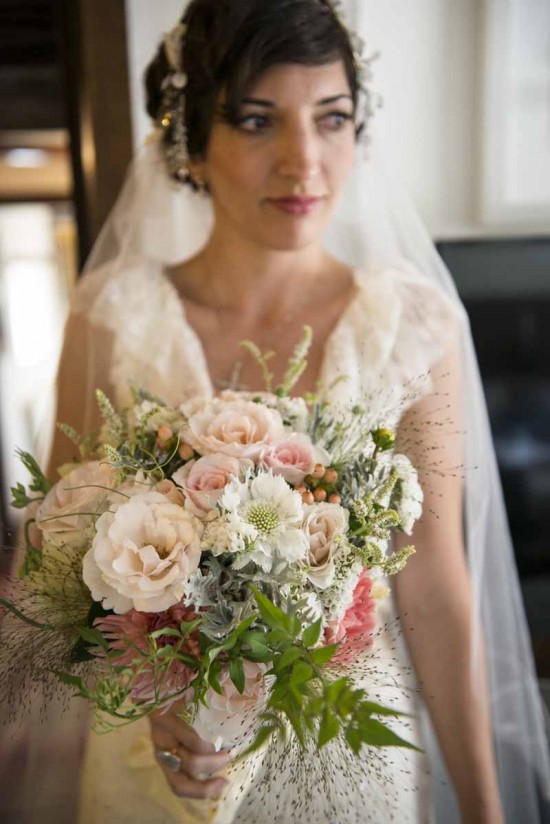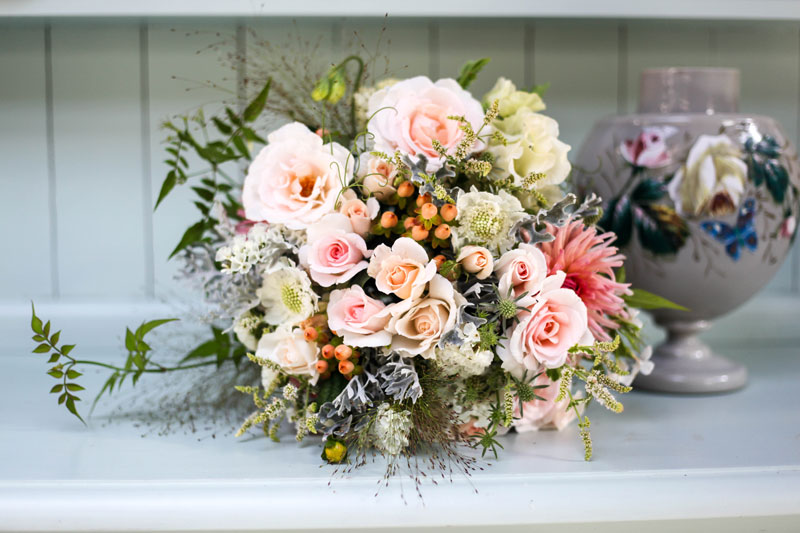 Cecilia's bouquet in September was a 'pick of the garden' creation. She did not have a colour theme and just wanted a very natural, spontaneous combination. The week before we wandered around the garden and she pointed out some favourites and left the rest to me. This is my favourite way to work and what we are really all about.  I call it 'going with the garden' and it often produces the most stunning results.
Thanks for those brides who got back to us and shared images of their special day, watch this space for more Real Brides…