If you haven't ordered your dahlias yet, now is a good time to get your addiction…. I mean 'collection' started.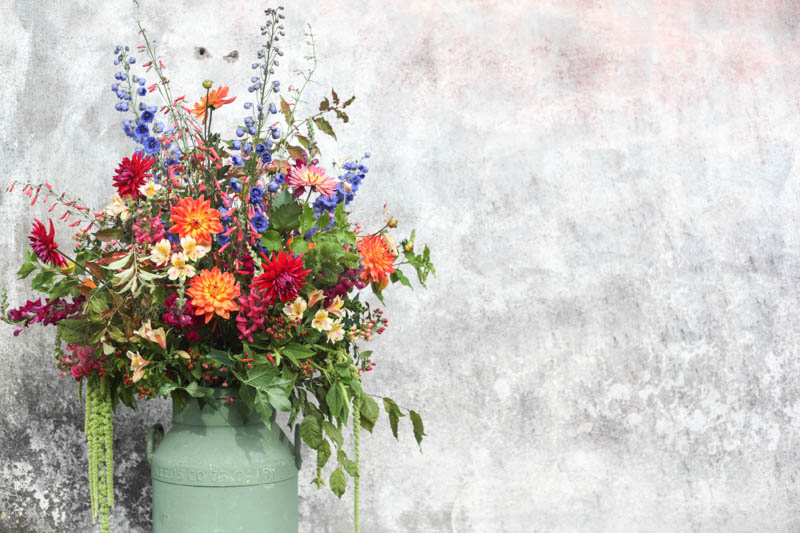 By bearing in mind the criteria from last weeks post for a good cutting dahlia, hopefully you will be able to navigate your way through the hundreds of varieties on offer.
My tried and trusted suppliers include Rose Cottage Plants (www.rosecottageplants.co.uk) who have a diverse range with some novel varieties, they are organized by colour making it easier to choose your favourites. They also give details on plant height and flower size – try to go for varieties no shorter than one metre. Their customer service is also excellent with a friendly phone call the day before they send the tubers out.
Rose Cottage send their tubers out early (February/March) so if you want to propagate from them there is plenty of time.
Here are some tried and tested favourites which are available this year from Rose Cottage:
Maldiva – a delicate, apricot-pink small water lily shaped dahlia. It flowers prolifically, on large plants and seems to be able to melt even the hardest dahlia-hater's heart.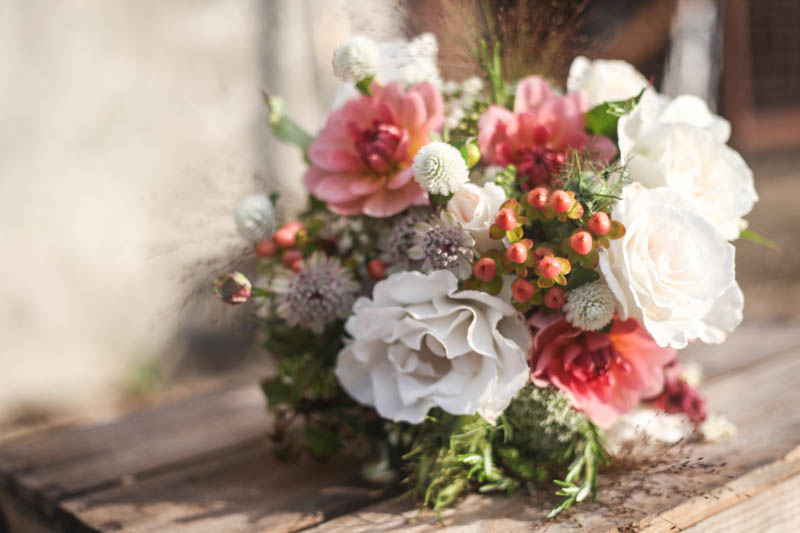 Acalpulco – if you like all things bright then this one is irresistible, perfect for an Indian summer flower crown.
Eveline – our most popular wedding dahlia, a medium decorative with a touch of lilac at the centre and at the edge of the petals, described as "achingly pretty".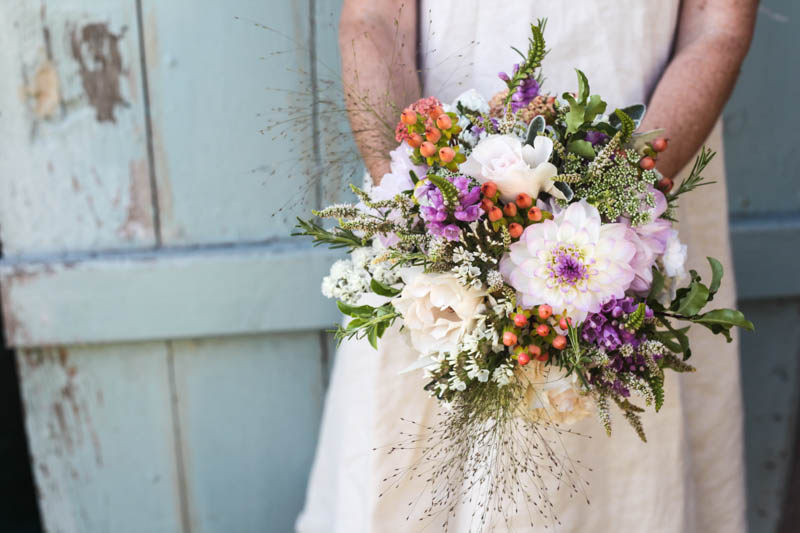 If you are growing your dahlias to cut for profit then a good wholesale price will be a priority. I use Eurobulb www.eurobulb.nl in the Netherlands. The smallest amount of each variety is ten which is no drama when you are growing for florists or your own wedding work. This is where I source:
Cafe au Lait – very fashionable at the moment, as a giant decorative type they need a longer growing period, I get them in February so they can be potted up and planted out in the polytunnel, this gives me hundreds of blooms from June onwards.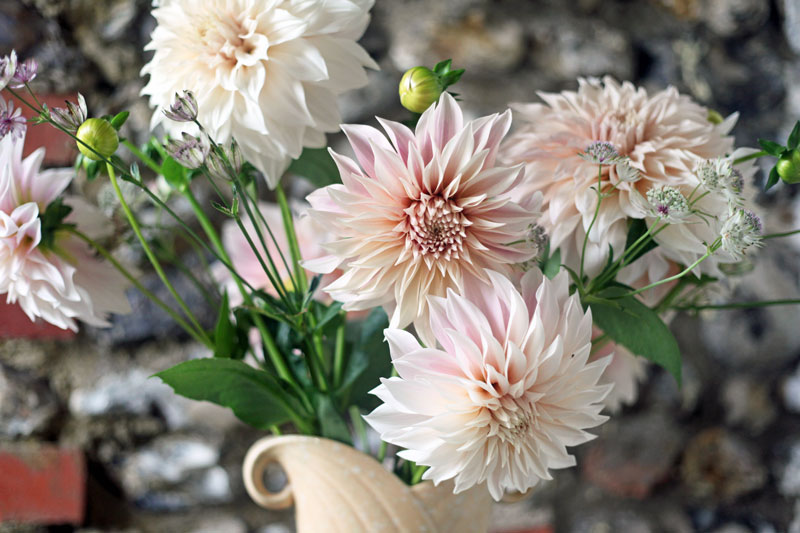 They also stock the Karma range 'reputed' for having a good vase life.
Karma Fuchsiana – a unique colour that always grabs attention.
Karma Fiesta – a 'punch you in the eye' orange (see pic of urn at the beginning).
Other suppliers to have a look at are Withypitts Dahlias www.withypitts-dahlias.co.uk. Richard Ramsey grows dahlias to cut for Covent Garden market so has a good selection of tried and tested varieties.
Withypitts grows one of my all time favourites – Carolina Wagemanns, a pale apricot waterlily. Both the shape and colour of this dahlia is exquisite and it is the one I cut for my home.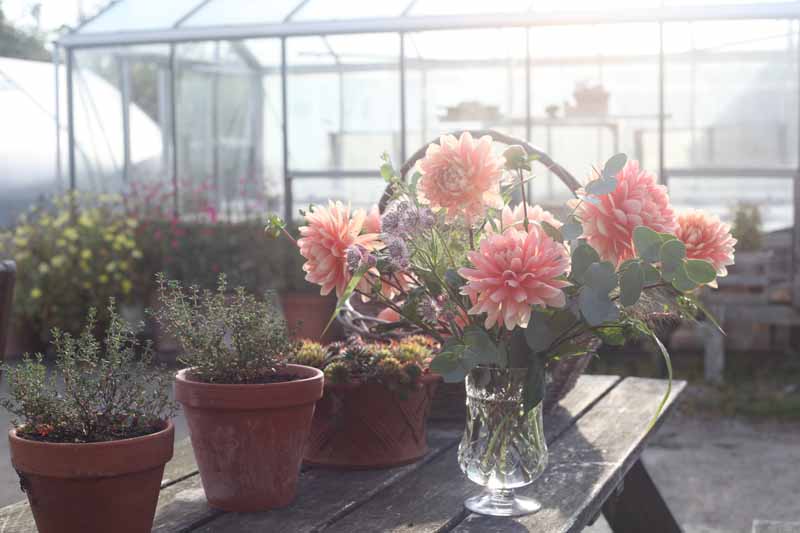 I also like Halls of Heddon www.hallsofheddon.co.uk these are the most established dahlia growers in the country and also specialise in chrysanthemums. They can also supply pot grown plants if you are a bit behind with your ordering or do not have a greenhouse to grow them on in.
I think their small ball and decorative collections are particularly good including:
Tiptoe – I have always had a soft spot for a bicolour and this one has been used in many a bridal bouquet, for some reason it makes me think of something cake based with jam…but then my mind often strays into the realm of baked goods.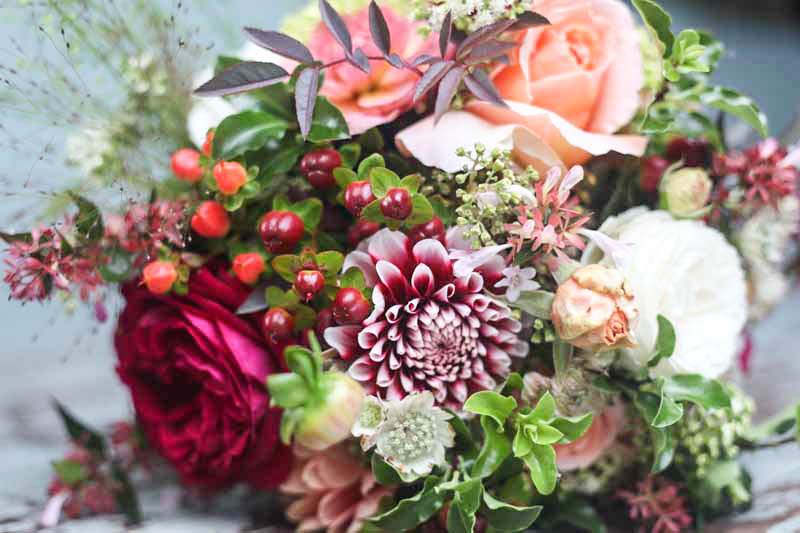 Amy Cave – described as 'purple maroon' I would say it is more of a crimson red with a purple tinge. The perfect ball.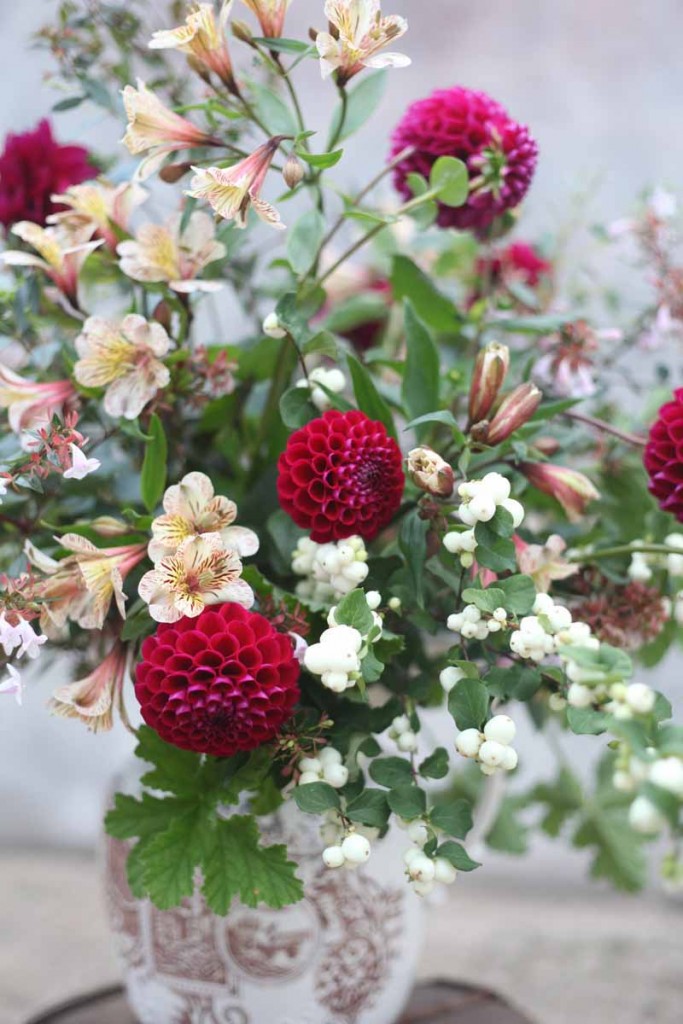 On that note I think I have divulged enough for one week, let's do propagation next week.
If you want to learn more about growing dahlias and visit the farm when they are in full flowering flow have a look at my Dahlia Masterclass in September.