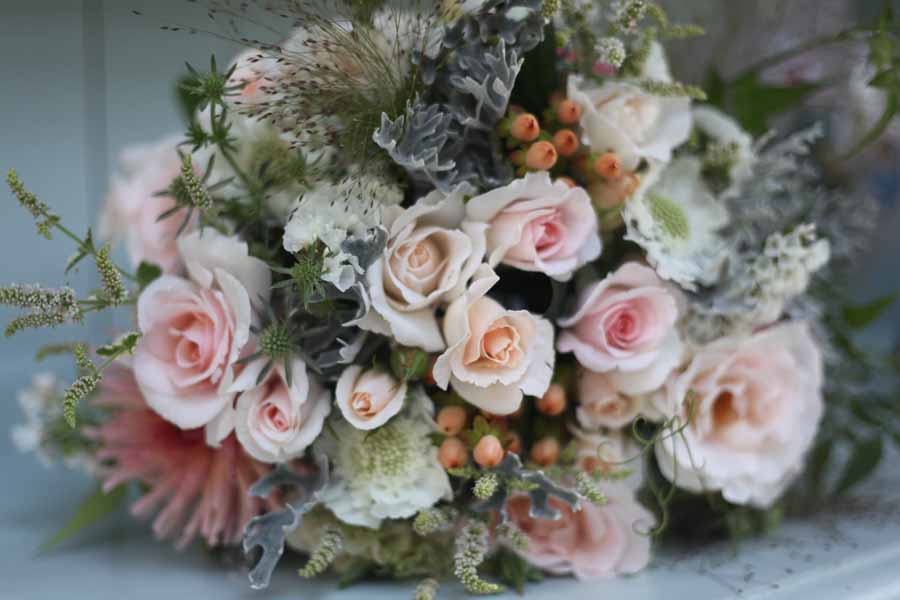 I have just been working on a small wedding for tomorrow which has got me contemplating my roses. The bride wanted blush pink and apricot ones – this heat has all but stopped them in their tracks but I still managed to find just enough. 'A Whiter Shade of Pale' has proved to be the winner for repeat flowering with 'Irish Hope' coming a close second. Both seem incredibly heat resistant.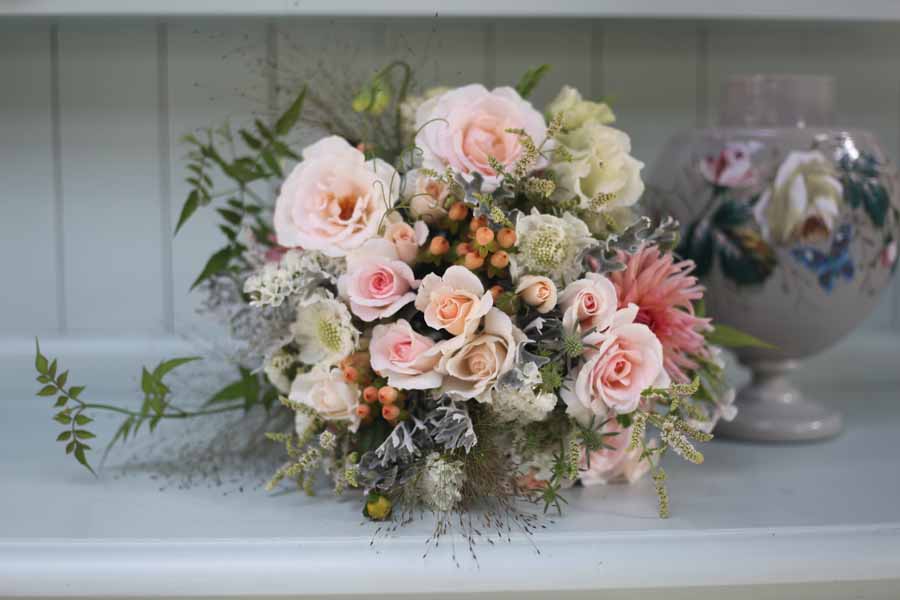 Back in June when they were looking at their luscious loveliest, Clare West joined me for an afternoon shoot all about roses. It felt wonderfully decadent to pick these precious blooms and create 'make believe' bouquets and pedestals with them. But to have them captured by Clare's beautiful photography was an opportunity I could not resist.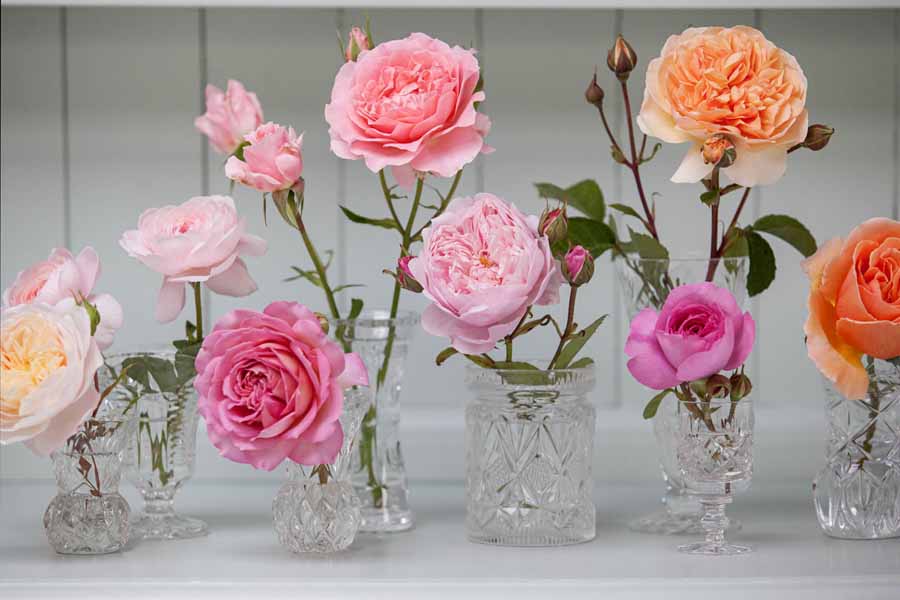 Photo by Clare West
We grow about 40 varieties here, mostly undercover in a Spanish tunnel. This not only protects their petals from the rain but increases stem length and reduces black spot. I think I managed to pick one of each variety for these pictures, out came the crystal vases and then I handed my fancy pen over to Clare who has much prettier writing than me. I decided to present the roses like this for my Rose Masterclass the following week. People were able to experience the blooms close up as I discussed planting, pruning, etc. and then we went outside to do some deadheading and to look at the growth habit of the different varieties.
Photo by Clare West
All of our roses are scented, some more than others, I think 'Chandos Beauty' and 'Margaret Merril' are the strongest. Sniffing roses is like tasting wine, each has a unique perfume which enhances it's character. They are like old friends to me and in the 5 years I have been growing them I have got to know their own little quirks and foibles.
Photo by Clare West
Out of all the cut flowers I grow I think they are the most far removed from their soulless, imported cousins. All the more reason to grow roses and bring unrivalled beauty to your arrangements.

Photo by Clare West
An urn filled with Hornbeam, Jasmine, Campanula, Ammi and the Rose 'Sweet Child of Mine'.

Photo by Clare West
A bridal bouquet with just the simplest addition of Jasmine and Apple Mint. Roses include 'East park', 'Millie's Rose', 'Queen of Sweden',' Warm Wishes' and 'A Whiter Shade of Pale'.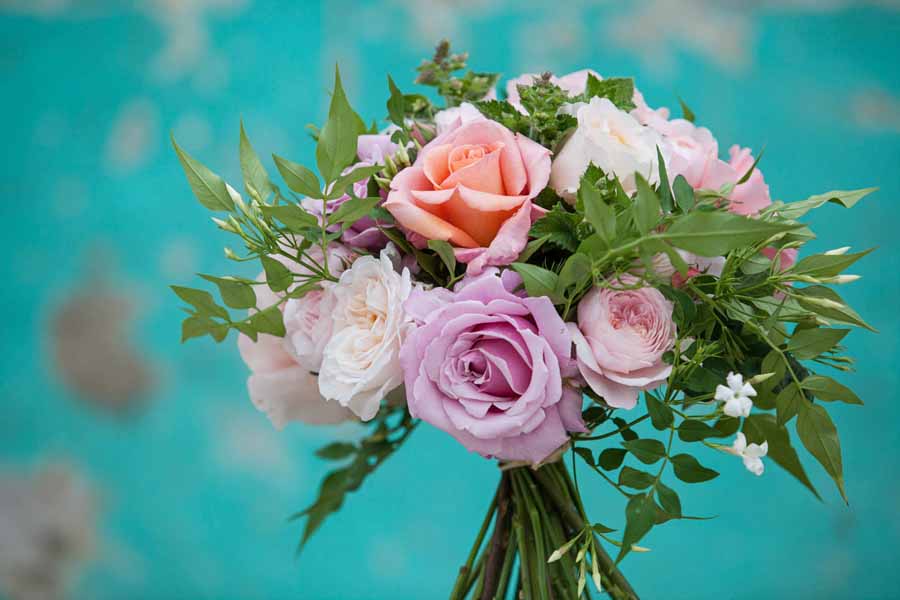 Photo by Clare West
Floral crown using patio rose 'Sweet Dreams'.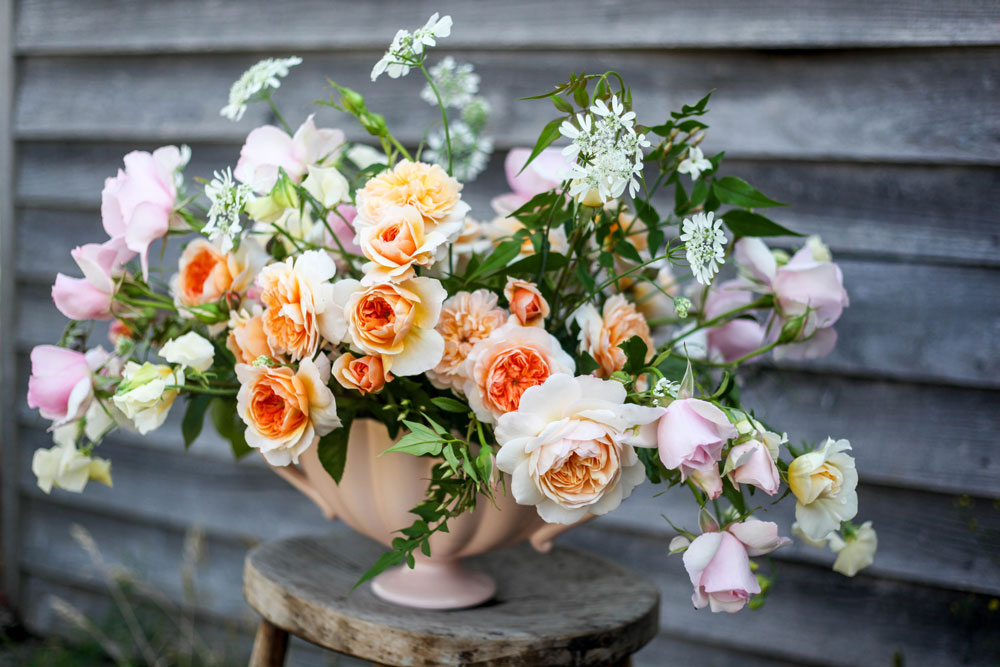 David Austin roses 'Crown Princess Margareta', 'Port Sunlight' and 'Crocus rose' accompanied by the lovely 'Chris Beardshaw'.
Many thanks to Clare West for keeping up the good work with all the incredible images, her last blog covering June can be found here.